Isaac is doing much better. No trouble with eating or drinking and keeping food down. We did have to see a doctor today for some other issue going on in the diaper region that seemed, shall we say, painful. If it alarms the daddy during a 5:00am diaper change enough that he immediately does some Google searching then the mommy gets to take the baby to see the doctor during the day. That's the way it works around here anyway! We're dealing with a little infection that should clear up soon and I've probably said too much for my sensitive readers so I'll leave it at that.
But, isn't he cute? Seriously!
Audrey has been trying a few different looks for the big wedding coming up in 8 days. This wont detract too much from the bride, will it? Hah! She wishes she could wear my veil! She cannot wait to wear her dress!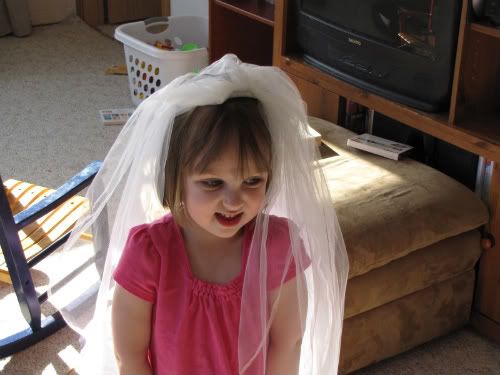 Ethan came home from AWANA last night with a gift for me! I feel like such a real mom when I get homemade cards.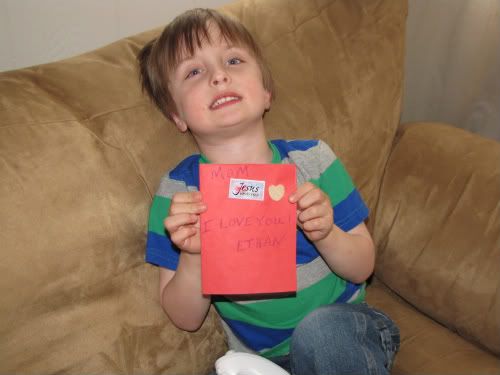 I'm also on a spring cleaning/ simplifying/ purging clutter kick. No toy is safe! And how many pairs of pants and underwear does one child need? Would 20 pairs of underwear be sufficient? If so, Ethan should be safe several times over. I tossed lots of pairs today. Sorry if you were hoping for hand me down underwear. Isaac had about 20 pairs of pants in his current size. I decided he didn't need that many. I packed up some and added it to my give-away and garage sale pile. I also switched Isaac's dresser with Ethan and Audrey's and I organized Isaac's closet.
And now I'm feeling a little sleepy and thinking that my 5:30 wake-up call to go running. Off to bed with me! Maybe.
Looking for some inspiration? Check out the inspired room. What a lovely site! It will suck you in (just warning you!).